Biork crystal deodorant in cork packaging
€ 13,95 (including 21% VAT)
Biork crystal deodorant stick. Made from alum in a (zero-plastic) cork packaging.
This deodorant has many benefits:
-it does not contain aluminum chlorohydrate, alcohol, perfumes, parabens, preservatives or dyes
-it comes in a dry shape which makes it leakproof. It doesn't get sticky or greasy
-it doesn't cause any irritations of the skin
-no white marks on clothes
-cork container contains no plastic and is fully biodegradable
-works around 24 hrs
-no animal ingredients, not tested on animals, vegan
-can also be used on feet
-suitable for both men and women

Use:
Wet stick with water and rub over skin. This leaves a layer on the (preferrably clean) skin. After use the mineral salts dry quickly without leaving stains or stripes on clothing. The alum crystals aren't absorbed by the skin, the skin is able to breathe. Do not rub on wounds. Dry stick after use so it will last longer. Do not eat or lick, keep away from children.
Contains: 120g
Brand: Biork
Ingredients: minerale zouten (alum), packaged in Portuguese cork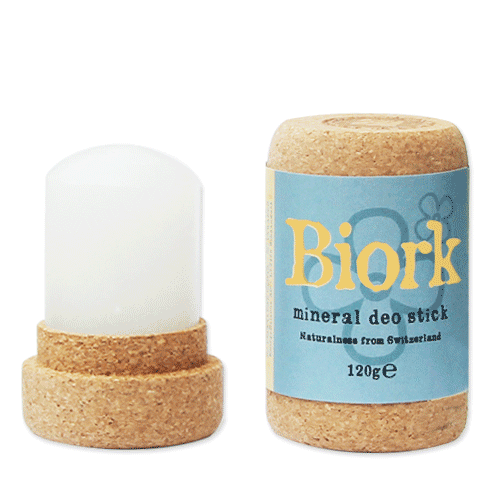 | Specification | Description |
| --- | --- |
| EAN code | 7640108202079 |
you may be interested in these products too
Babongo shampoo bar Lavender & Tea tree

Lavender & Tea tree shampoo bar. A soapbar for your hair? Yep, definitely! And it's fine too! Wet the soapbar and rub it over your wet hair to make it foam. Massage and rinse. We're almost certain you'll be really excited about…

€ 8,75

Food Huggers - reusable silicone foodsavers

Please note: sold out. You can pre-order, they will be delivered beginning of March!

Set of 5 food huggers. Food Huggers create a tight seal by wrapping around your leftover fruits and veggies. Gently press your fruit or veggie…

€ 14,95

Babongo Travel soap 3-in-1

This Travel soapbar is a perfect combination of a shampoo, soap and deodorant bar. And it smells deliciously!
Shampoo bar: Wet the soapbar and rub it over your wet hair to make it foam. Massage and rinse.
Bath soap and deodorant…

€ 8,75

washable facial cleaning pads by Lamazuna

Ten washable, reusable facial cleaning pads by Lamazuna.

-can be used over 300 times
-washable at 60 or 90 degrees
-ideal for sensitive skin

Handmade in France.

Brand: Lamazuna
Measuements: diameter 8cm
Material: 70% polyester,…

€ 11,00